World Book Day
Mill Water celebrated World Book Day today with costumes and a visit from Paddleboat Theatre. A group of pupils helped to put a show together in the morning, which was then performed to the whole school in the afternoon. Every pupil also had the chance to choose a World Book Day book from our new book vending machine.
Every Little Helps from Exmouth Tesco
Mill Water came first in Tesco's recent Blue Token scheme, receiving £1,500 for our school playground redevelopments. Thank you to everyone who supported us with this scheme while you shopped!
The Exmouth store has also helped with supplying books for every pupil, in exchange for World Book Day vouchers. Pupils chose their book today from our new book vending machine.
School Crime-busters
Pupils in Emily's class turned detectives for the day this week, to solve a mystery! Their prized 'spinny' chair was stolen from the classroom and students had to solve clues by measuring footprints, cracking codes and interviewing a suspect in order to get to the bottom of the crime. Their last clue pointed them towards Business Manager Paula (pictured in the seat) who was guilty of the crime and arrested by the class!
New Mobile 'Skills for Life' Tuck Shop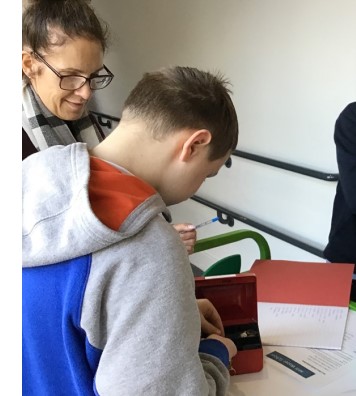 Pupils are now able to practise their enterprise and maths skills using our new mobile tuck shop.
They can wheel the trolley around school as part of their interactive lessons, selling items to grateful staff!
Next 'Preparation for Adulthood' Parent Forum
Preparation for Adulthood Social Worker Elaine Letten will deliver a Parent Forum in school on Tuesday 14th March, 10-11am. This is for parents and carers of pupils in Year 9 and upwards. This will be the last of the series of sessions and will cover 'Power of Attorney and Deputyship'.
To book a place please email parentforum@millwater.devon.sch.uk
Helpers needed for Bicton Spring Fayre Fundraiser
Come and support Friends of Mill Water PTFA's stand on Sunday 19th March, between 9am and 5pm, at Bicton Spring Fayre. Helpers will get free entry. Money raised will help pay for extras for pupils.
The PTFA is also appealing for donations of cakes for their stand, to be brought into school on the Friday 17th March or to the stand on the day.
If you can help, please email Georgia at
fundraising@millwater.devon.sch.uk
Details about the Fayre can be found here
School Playground Transformations
Pupils have been enjoying our new play spaces. This follows a series of successful fundraising campaigns.
Read all about it in the devonlive and exmouthjournal articles.
Raising Money While You Shop
Don't forget that you can raise money for Friends of Mill Water School (PTFA) while you shop via

You can find out more about the PTFA here
Signposting...
Exeter & District Mencap is holding its AGM on the morning of Wednesday March 22nd at Toby Inn Carvery, Middlemoor, Exeter EX2 7HL. Arrival 10:30 (for coffee), with the meeting starting at 11:00. The theme of the meeting will be Day & Respite Services. All welcome to attend. A buffet will be available after the meeting so please book your place by March 15th by emailing barbfsecedms@btinternet.com or ringing Barbara Ferrity on 07721 907443.
---
Devon Signpost Plus has loads of useful information relating to Children with Additional Needs in its weekly Snippets round-up
---
Winter Support for Woodbury, Exmouth and Budleigh residents
Seachange in Budleigh can offer help with the purchase of 'energy saving' items this winter, through the National Grid Community Matters Fund. Please initially contact Sarah Forde at Seachange via sarah.forde@seachangedevon.org
This fund is limited and once it's gone it's gone.
---
Household Support Funding (approx. £100)
Available for those on pre-payment gas and electric meters.
Complete this online form to apply.
---
Exmouth Foodbank
Exmouth Foodbank provides food help to anyone struggling to make ends meet, from its premises in Sheppards Row.
Tel: 07749 322291 Email: help@exmouthfoodbank.org.uk
---
Wesley's in Budleigh Salterton
Community larder and a monthly 'pay-as-you-can' community supper, in Temple Methodist Church hall, Fore Street, EX9 6NG. Call 07955 863160 for more details.