Parents Meet and Greet
Our new parents were able to get together on Friday and enjoy a good chat over a cup of tea. Thank you to Gemma Corry who organised this successful event. The feedback was overwhelmingly positive and here are a few comments parents left.
Thank you so much for organising this, it's always an enjoyable and lovely atmosphere, we feel so welcome. Lovely to come and see the school. We look forward to the next one
We found it extremely useful. it was so nice to meet our son's teacher and hear how my son has settled in school. It was lovely to meet other parents as well
Thank you for your time and effort to organise this 'Meet & Greet' session
So so helpful would be fab to do it again please
We will be adding more meet and greet dates to our school calendar, so keep your eyes peeled. Sometimes it helps to have theme to focus on such as online safety, transitions, safeguarding: if you would like any adding to the list please let us know.
Devon County Messages
Measles cases are rising across the country, with over 102,000 children starting primary school in England being at risk of catching the disease. We have been asked to share key messages from the NHS about measles / MMR and how to get vaccinated.
The Back to school MMR Guidance from the NHS includes information to share, as well as example social media posts which can be found here: NHS Vaccine Poster and NHS MMR Poster
Measles is highly infectious and if left unvaccinated nine out of ten children in an early years setting can catch the disease if just one child is infectious. I am sharing these resources with our school community to increase awareness and encourage parents to get their children vaccinated.
Free Training for S&LT
Please see below an email I sent to all staff. There are resources in it, that are useful to parents/carers too.
Marjon's specialist team of speech and language therapy experts have created an online e-learning course that can upskill teachers to understand speech, language, and communication difficulties and their impact on learning.
Our SLT for Schools course is freely available to everyone, so whether you're a teacher or a student, you can improve your understanding of children with SLCN and speech and language development needs.
You can access your free, reusable online training directly from the Marjon University website, set a schedule that fits your needs, and learn in your own time.
This new online course aims to provide teachers with the opportunity to gain an understanding of Speech, Language and Communication Needs in primary and secondary school-aged children. It was developed using funding from NHS England and is free to users.
The training includes specialist content covering social, emotional, mental health and communication.
The course can be found here
Users then 'sign up' to request unlimited access to all the materials.
Finances
Are you struggling to have enough money to live on? The rise in the cost of living means that we're all having to dig a little deeper to pay for household essentials such as food and energy. Many people in Devon are being forced to make difficult decisions, especially those on the lowest incomes.
If you don't have enough money to live on, it's important to make sure you know what support is available, so DCC have put together a special edition of the Connect Me newsletter to help.
It includes all the latest on how we are using the Government's Household Support Fund in Devon to help people who are struggling to pay for food, energy, water bills and other related essentials.

Find out about:
help to pay your bills if you're on a pre-payment meter

funding to make your home warmer and more energy efficient

grants for voluntary sector organisations supporting communities

financial help from your local district or city council

free school meals, holiday activities and supermarket vouchers

how to save on childcare costs

free food

how to get cheaper broadband and phone packages
If you missed it in your inbox earlier this week, you can catch up online using this link
Community Kindness
Mill Water has received generous support from two local organisations this term. First the Budleigh Salterton Arts Club donated £400 towards pupils' arts activities, following a collection at their summer art exhibition. Then the school was chosen by a Collumpton Tesco customer to receive £5000 after they picked the lucky Golden Token. The funds will support enrichment activities and projects that help our pupils to prepare for their best futures.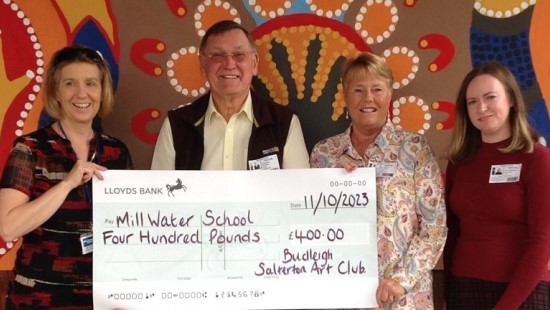 Mill Water Assistant Head Sally Cregan (left) with Budleigh Salterton Arts Club members
PTFA
Do you have skills that might support the Friends of Mill Water PTFA?
Perhaps you're good at managing accounts, admin or communications?
If so our PTFA would love to hear from you. It needs members who can volunteer a bit of time each term. This will ensure that it can keep supporting the fun activities that raise funds for extras for pupils. No job is too onerous. It's all about teamwork, having fun and the occasional slice of cake!
To find out more about the roles that need filling and how you can help, please email ptfa@millwater.devon.sch.uk
Crowdfunder for Mill Water Pupils' Gardening Project
Donate £1 to Mill Water and a national Crowdfunder scheme will double it!
The Save Our Wild Isles Community Fund is a collaboration between Aviva, the WWF and the RSPB. They have teamed up to support projects that protect and restore nature. Mill Water's outdoor learning initiative is one of their chosen schemes.
To find out more, or to make a donation and see it doubled, click on the image below...