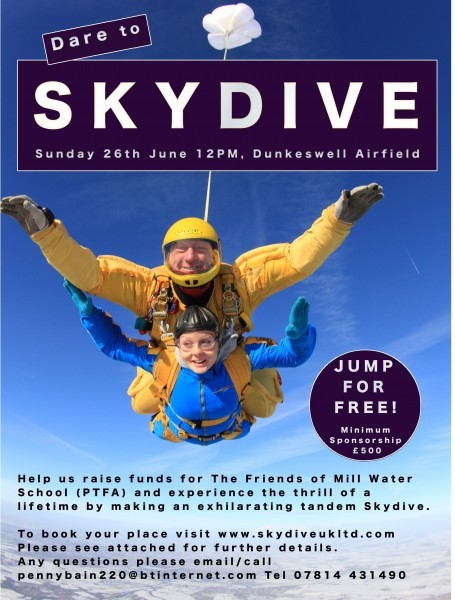 Unfortunately due to bad weather the skydive had to be cancelled. However, we have rescheduled the skydive to take place on the following dates:
Sunday 17th July - 10am
Sunday 24th July - 2pm
---------------------------------------------------
To Parents, Carers, Staff and Friends...
Would you like to raise funds for The Friends of Mill Water by making an exhilarating 15,000ft tandem skydive?
Well, now's your chance to jump for free!
All equipment is provided and you will be fully briefed prior to the event. We already have 5 willing participants and if we reach 12 – the time slot will be exclusive to Mill Water. Participants must be 16 or over.
A £50 deposit secures your place (refunded after the jump) and a minimum of £500 in sponsorship allows you to jump for free! This covers all the expenses of the jump and raises money for the Friends of Mill Water School.
This is a fantastic opportunity to experience the thrill of a lifetime AND raise funds for the PTFA simultaneously – what could be better??
If you feel able, we would LOVE you to take part!
To book your place, visit skydiveukltd.com and follow the instructions below:
Click on the "Tandem & Charity" tab.

Select "All Our Charities" from the drop down menu.

Scroll down until you reach the "The Friends of Mill Water School" logo.

Click on this logo to open our charity page.

The date and time is preloaded, click on the time (12:00) and the booking page will open.
Alternatively click on this link to take you directly to the booking page: