Gill Scott - Physiotherapist
Janet Ackford - Physiotherapy Assistant
The provision at Mill Water School currently consists of one and a half days per week from the Physiotherapist, and three days per week from the Physiotherapy Assistant.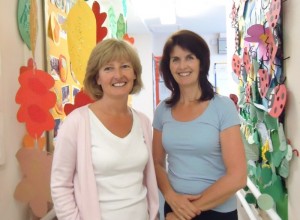 Referral to the physiotherapist can be made through the school as necessary or by doctors or the school nurse. Parents can raise concerns direct by contacting the physiotherapist at school.
The physiotherapy team work in collaboration with parents, school staff and pupils to work on physical development. Physiotherapy input would involve an initial assessment followed by appropriate interventions which might be an individual home exercise programme, an individual programme to be used in school, a group physiotherapy session, rebound therapy, hydrotherapy or general advice. We advise on seating, mobility aids and other specialist equipment.
We have an orthotic clinic held at school by Exeter mobility centre which is approximately every three weeks. We also host an occasional wheelchair clinic in school.
The physiotherapy team can be contacted at school or messages can be left through Vranch House on 01392 468558.